David Howell Birds in Flight Quilt Earrings
Inspired by Quilt patterns
---
Art talks. Nature talks. For more than 40 years, David Howell & Company has listened to those two voices.  Their innovative designs are inspired by museum pieces, adapting original, iconic work to modern, meaningful gifts. 
The Birds in Flight pattern (also known as Birds in Air) evokes the flight of migrating birds. Creating a quilt with this intricate pattern of small triangular pieces required a deft sewing hand and an organized mind.
Finish: Solid brass, electro-plated with non-tarnishing silver finish, giclee print, domed, ear wires are hypo-allergenic
Dimensions: Hangs approx. 2.50" (Gift Boxed with Provenance Card)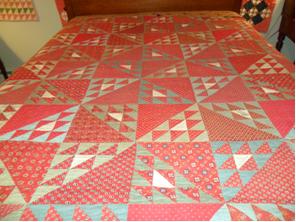 This quilt from the New Jersey State Museum collection uses this bird-inspired shape in its designs.
CH2012.10.1. Made by Abigail Brooks of Trenton, NJ, in 1847
For more information about the connection between birds and antique textiles, visit the FFF video series here:
Your purchase helps to support the collections, exhibitions and programs of the New Jersey State Museum.
---